Officers 2015 - 2017
President: Kevin Mercadante
Vice-President: Rose Porcaro
Immediate Past President: Michael Sacco
Orator: MaryJane Simoncini
Recording Secretary: Paula Rigero
Financial Secretary: Nancy Gurgone
Treasurer: Kenneth Simoncini
Trustees:
Rosalyn Consiglio Joanne Colombo Francesco Visci
Tara Simoncini Vittoria Mastrocola
Master/Mistress of Ceremonies:
Caryl Massiello Anna Alano
Guard: John D'Alessandro

---
---

October Monthly MeetingThursday, October 6, 2016 Click on the newsletter picture to download a copy of this month's newsletter.Our next meeting will be held on Thursday, October 6th, at Our Lady of Mt. Carmel Rec Center Cafeteria at 7:00 pm. DINNER will be prepared by Manzi's Café at 6:00 PM. Please call President Kevin Mercadante at 508-754-0486, 508-294-8545 or Kevin@Mercadantefuneral.com by Tuesday, October 4th if you plan to attend. Cost is as always $ 6.00. We would love to see all of you and some new faces. COME & BRING A FRIEND!!!!
---
---
WORCESTER LODGE #168
Order Sons of Italy in America
Celebrate Italian Heritage Month
Download a copy of the flyer here.
Comedy-----Music-----Food
"Memoirs of the Last Sicilian"
Starring
~
Nick Albanese
Saturday October 15, 2016
Dinner 7:00 pm with show to follow
Union Station Ballroom
Donation $45.00
~
$1.00 Garage Parking
Music by: Marco Turo Entertainment
For tickets & information call
Rosemarie Mikitarian~508.852.7154
Vittoria Visci~508.756.9479, vvisci@charter.net
Visit our event page by clicking here.

---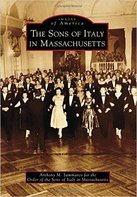 Own a piece of history - buy your copy of The Sons of Italy in Massachusetts today!
Click here to order directly from OSIA Grand Lodge of Massachusetts.
Enjoy over 100 pages of photographs depicting the history of Italian Americans who joined the Sons of Italy in Massachusetts, starting at the Grand Lodge of Massachusetts' founding in 1914.
Pictures show statewide as well as local events celebrating Italian heritage.
There are several pictures of members of our lodge, Worcester Lodge 168.
Compiled by Sons of Italy in Massachusetts member Anthony M. Sammarco.
---