Officers 2015 - 2017
President: Kevin Mercadante
Vice-President: Rose Porcaro
Immediate Past President: Michael Sacco
Orator: MaryJane Simoncini
Recording Secretary: Paula Rigero
Financial Secretary: Nancy Gurgone
Treasurer: Kenneth Simoncini
Trustees:
Rosalyn Consiglio Joanne Colombo Francesco Visci
Lucille Carrier Vittoria Mastrocola
Master/Mistress of Ceremonies:
Caryl Massiello Anna Alano
Guard: John D'Alessandro

---
---

January Monthly Meeting
Thursday, January 5, 2017

Click on the newsletter picture to download a copy of this month's newsletter.

Our next meeting will be held on Thursday, January 5th, at Our Lady of Mt. Carmel Recreation Center Cafeteria at 7:00 pm. There will be NO DINNER this month. I hope it doesn't snow and if there is a question of cancel we will put it on the radio and your always welcome to call me at 508-754-0486 to find out.


COME & BRING A FRIEND!!!!

---
---
WORCESTER LODGE #168
Order Sons of Italy in America


Thank you to Maria Sciannameo, her sisters and all those that helped make the Christmas party such a success. It was none the less a fabulous time and a great opportunity to get friends and relatives together to share.




---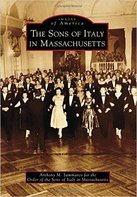 Own a piece of history - buy your copy of The Sons of Italy in Massachusetts today!
Click here to order directly from OSIA Grand Lodge of Massachusetts.
Enjoy over 100 pages of photographs depicting the history of Italian Americans who joined the Sons of Italy in Massachusetts, starting at the Grand Lodge of Massachusetts' founding in 1914.
Pictures show statewide as well as local events celebrating Italian heritage.
There are several pictures of members of our lodge, Worcester Lodge 168.
Compiled by Sons of Italy in Massachusetts member Anthony M. Sammarco.
---